Tournament Planet – Your One-Stop-Shop Bowling Management Software
We strive to make Tournament Planet the number solution for bowlers and bowling admins. We truly want to be your one-stop-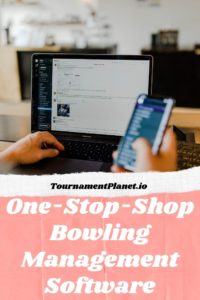 shop bowling management software choice. That's why we have built a single platform with all of the features you need. Whether you're a bowler or an admin who manages events we've got you covered. That's because Tournament Planet was created by bowlers for bowlers. But we don't stop there, we're always improving. In this article we'll discuss all of the features that set Tournament Planet apart from the competition. By the end, you'll know that there is no other option than Tournament Planet for your next bowling event.
The best part is that Tournament Planet is available on your phone or tablet so you can bring it anywhere with you. All you need to do is download the app from the Apple App Store or the Google Play Store. Then, purchase a license from tournamentplanet.io and create an account. So simple. If you prefer to use your computer then we also have all of the same features available through your browser at tournamentplanetapp.com. No other bowling software gives you this level of flexibility which is why Tournament Planet is your one-stop-shop bowling management software that goes with you.
Competition Features For One-Stop-Shop Bowling Management Software
Leagues
Tournament Planet is your one-stop-shop bowling management software if you are a League Coordinator. Simply put, Tournament Planet has all of the features you need for managing both singles leagues and team leagues. And it's all at your fingertips. Not only that, but your players get the advantages too. You can also upload your Recap Sheets and League Field Standings sheets with ease. Everything you need for league coordination is available on your phone or in your browser.
Tournaments
We have three robust options when it comes to running tournaments. First, we have the Singles Tournaments – compete as an individual to see who is best. Second, is the Team Tournament. Here you can add as many players on a team as you want from 2 to 200. But, hopefully you're teams sizes aren't that big. Last, is the Blind Tournament format. When you want to switch things up go for a blind tournament. Players are randomly matched against another player and the winner advances. This continues until one player remains. With three great options for tournaments we've got you covered.
Brackets
How can you claim to be a one-stop-shop bowling management software without brackets? Tournament Planet has brackets included as well. In fact, you can create and manage both singles brackets and team brackets. We even have reverse brackets if you want to change things up. All options allow for brackets of 8, 16, 32, 64, 128, or 256 players. You can do handicap or scratch brackets. All of which update in real time and can be viewed by players on their smartphones.
Raffles
Our Android and Web users (not iOS unfortunately) have access to creating and running raffles in the Tournament Planet app alongside the other features. Raffles are so simple to run and players can see who wins in real time and what they have won. You also can see interesting insights such as how many entries there are so you can calculate your chances of winning.
Business Features For One-Stop-Shop Bowling Management Software
Business Promotion
Not only does Tournament Planet allow you to create and manage the various competition aspects of bowling, but it also allows you to promote your business. You can do this in-app with a shiny business listing. Tell your customers about your business and what you have to offer. If you want to boost your business listing you can with just a few clicks – then everyone sees your business highlighted among all the others.
We also have discounts available in the app for boosting your business' presence outside of Tournament Planet. When people are searching the area in Google, Facebook, Yelp, and others they will see you as the number one choice. We've had businesses turn down customers because they were beyond capacity.
In-App Product Ordering
What if your patrons could order your products right from their phone? They wouldn't have to stand in long lines or stop the action. Tournament Planet makes it simple. You can add your different stores such as bar, restaurant, and Pro Shop. Add the items for sale for each and then players can order them from anywhere. Bowlers can order their fries, drinks, burgers, etc and have you deliver them to the lane without ever visiting a register. Imagine how much more you'll sell when it's all at their fingertips.
Player Features For One-Stop-Shop Bowling Management Software
With a robust set of player features Tournament Planet is in a class of bowling management software all its own. We're always adding new features as well so the player experience continues to improve. So when you use Tournament Planet to manage your bowling competition you enable players to have a better competition experience as well. Features such as business browsing, product ordering, push notifications alerting them of competition updates, and viewing live scores in real-time. All of these and more are designed to keep players in the action and having fun. This makes your tournaments and leagues the number one choice for players.
Frequently Asked Questions (FAQ)
What If I Have An Idea For A New Feature?
If you have an idea for a new feature you can let us know in a couple ways. First, you can leave a comment below. We read all comments, and you may start a dialogue with other users who also want the same feature. Second, from the app you can go to the main options section. All you need to do is click the three bars in the top left of the app to open the menu. Then, you click the "Report A Bug" option. Once you fill in the details and click submit then we'll see the request and add it to our list of future improvements. Your feature suggestions only help us make Tournament Planet the best one-stop-shop bowling management software for competition organizers and players.
Final Thoughts On Your One-Stop-Shop Bowling Management Software
Tournament Planet combines all of the main features needed to run a bowling competition in one easy to use software solution. By allowing you to run it from your phone, tablet, or computer we make it easy to access anywhere. And, with our rich feature offerings for businesses, competition organizers, and players Tournament Planet truly is a one-stop-shop solution.
So let us know in the comments below if you have used Tournament Planet for your business or competition. Is there anything else you need in order to have a better experience? Start the discussion and we'll continue to make Tournament Planet the best bowling management software on the market.