What Bowling Balls Does Kris Prather Use And Who Is He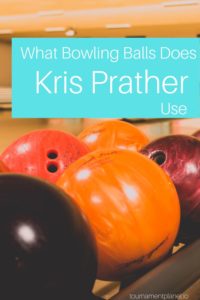 In this article we'll answer the questions of what Bowling Balls does Kris Prather use, but first let's get to know Kris. Kris Prather recently made headlines when he won the PBA Strike Derby on FOX Sports on June 6th, 2020. But Kris has been making headlines for years in the sport of bowling as he has won a number of titles. Kris' throw style is tweener and if you watched the inaugural PBA Strike Derby you saw how deliberate his shots are. In the end all players ended up battling the dry lane conditions and broken oil patterns. Kris, luckily, was able to take his time and make those precision shots right to the pocket scoring him the most strikes in the final round to win it all (7 strikes was the winning score).
He is part of Team Roto Grip and from his bio:
"Kris attended Wichita State University where he also bowled… his favorite food is fish… when it comes to music he is a fan of Josh Turner… and when not bowling he enjoys time on the water doing some fishing."
Prather is also part of the Vise Grips pro staffs.
What Are Kris Prather's Accomplishments/Titles
If you're new to bowling then as mentioned before you know Kris Prather from the inaugural PBA Strike Derby where he won first place on June 6, 2020. If you've been watching the sport for some time then you know Kris reached star status in 2019 when he won the inaugural PBA Tour Playoffs on June 2, 2019 and came back to make headlines again at the PBA Tournament of Champions on February 9, 2020. But Prather has excelled at bowling from a young age and won his first major adult title back in 2011 with a second place victory in the 2011 USBC Open Championship. His first major first place win would come later at the 2012 Paragon Open.
In total, Kris Prather has won 3 PBA National Titles, 2 PBA Regional Titles, 1 PBA Major Championship, 1 PBA Strike Derby, and 4 other major Tournament titles. He has bowled 25 sanctioned tournament perfect 300 games and 11 800 series awards.
What Bowling Balls Does Kris Prather Use
So what bowling balls are in the arsenal of a champion like Kris Prather? Let's take a look. Kris Prather is part of Team Roto Grip he primarily uses Roto Grip Balls. You can find these balls and a bunch more for side-by-side comparison in our other article Bowling Ball Stats – Comprehensive List.
Roto Grip Idol
Kris Prather's starting ball in his lineup is the Roto Grip Idol. This is a classic ball by Roto Grip because of its hard cover and ability to take blast through medium to heavy oil conditions. This ball is incredibly resilient even after oil conditions start to degrade, but most favor it for its performance on a clean oil pattern. It has a solid reactive coverstock which creates those deep peaks and valleys in the surface structure of the ball allowing it to grip the lane easily giving lots of aggressive traction. This also gives it a lot of hook potential.
This is the ball Kris Prather used to win the PBA Strike Derby. The Roto Grip Idol isn't considered a high performance ball but rather an upper-mid performance bowling ball. That's surprising considering players have been winning tournaments with this ball for years. And at it's modest price point it's easy for even beginner bowlers to get professional level performance with the Roto Grip Idol.
Roto Grip UFO
The second ball in Kris Prather's bowling ball arsenal is the Roto Grip UFO. Similar to the Idol, this ball sports a solid reactive coverstock. So it grips the lane very aggressively and has a lot of hook potential. This ball does very well in high oil conditions and is another great starter ball for clean lane conditions. The UFO sports an asymmetrical core which gives it a lot of kick on the backend. This has the highest flair potential of all the balls in the lineup with a high differential rating of 0.054. It's really amazing to see a top tier professional bowler winning titles with such a reasonably priced ball.
Roto Grip Wild Streak
Like the previous two balls the Roto Grip Wild Streak has a Solid Reactive coverstock. This gives it lots of traction on the lane and medium-high hook potential. With a differential of 0.048 this gives the ball a flair potential of 8 out of 10 which is quite a bit. It's RG value is 2.6 which makes this a solid mid lane ball. If you're bowling on medium to medium heavy oil conditions then go with the Wild Streak.
Roto Grip MVP Pearl
This has the lowest flair potential in Kris Prather's arsenal. It has a differential of 0.04 which still is medium flair potential. This ball is good for getting those corner pins for a spare. With a hybrid reactive core it's understandable why this has medium flair potential. It is the best bowling ball out of the group for handling medium oil lane conditions. The symmetrical core means you're not going to have a hard break. This aspect also compliments the lower flair potential of this ball. Out of this lineup this ball is best used when lane conditions are getting dry and not as fresh. This ball is from the HP2 line which isn't the newest, but you see that reflected in the price. This ball is still a great ball used by many professionals, including Kris Prather. The MVP Pearl would be a great transitional ball for your bag.
If you didn't see the PBA Strike derby you can see some highlights here:
Final Thoughts And Wrap Up
Kris Prather, as a member of Team Roto Grip obviously sticks with Roto Grip balls. They have a smaller selection than a lot of the other big ball manufacturers. However, what you find in all of Roto Grips lineup is strong performance. It's almost as though each ball is designed with specific conditions in mind. This goes a long way to complement a varied lineup.
So what do you think about Kris's lineup? Have you used any of these balls? What would you swap out in your arsenal? Let us know in the comments.