PBA – Professional Bowlers Association
When you think of professional bowling probably the first name that comes to mind is the PBA because "Professional Bowlers" is in the name. It's almost like the NFL of bowling. Founded in 1958 the PBA history goes back more than half a century. They currently boast more than 3,000 members from 30 countries. The PBA overwent a tech overall in the year 2000 and is currently owned by Bowler0 Corp who has been making progress in advancing the overall footprint of bowling in the public eye. Primarily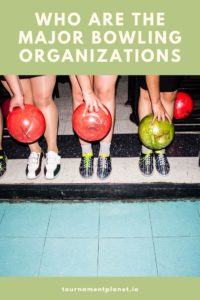 this is done by overseeing all scheduled tournaments and signing a partnership with FOX Sports.
The PBA hosts tournaments for all demographics from teens to seniors and men and women as well as throughout various regions. Some tournaments require membership to participate in and entry fees can be anywhere from $200-$600. While entry fees are cheaper for members you may not want to join immediately. In the event that you enter a PBA tournament and win cash prizes you are not required to purchase membership, however, you can only cash out your winnings a set number of times per year without being a member.
So you're interesting in a PBA membership? First, you need a USBC Membership in good standing. You'll also need to have an average score 200 in a sanctioned USBC league or 190 in a PBA sanctioned league. Then you just fill out the membership forms, pay the dues, and your in. Being a member increases the likelihood that you will make it into PBA tournaments – when the spots fill up non-members are not allowed in.
Remember also that only PBA members are eligible for the PBA 300 rings, so if you think you could roll a 300 during an event make sure you're a member before you join the tournament. Additional information can be found at www.pba.com
PWBA – Professional Women's Bowling Association
The PWBA was founded 2 years after the PBA in 1960 dedicated to advancing the sport of bowling for women. The history of the PWBA is long and complicated with groups breaking off to form new organizations, merging back with the PWBA, disbanding, and being resurrected. The promotion of women's bowling has also had a rough time with many networks only airing high profile tournaments. The PWBA was given new blood in 2015 with dedicated funding by the USBC and BPAA. What started as 10 events has grown on average by 1 event per year, but due to COVID19 the 2020 season was cancelled.
TNBA – The National Bowling Association
Originally founded as the NNBA in 1933. Since the NNBA had several Asian, Native American, and Hispanic members the NNBA changed its name to TNBA as we know it in 1944. The organization spent the next several decades lifting restrictions on African American players from other bowling organizations while advancing the profile of many great black bowlers. Today the TNBA continues to advance equality for all in bowling and works diligently to get young people into the sport of bowling with over 2,600 youth members today.
USBC – United States Bowling Congress
The USBC was formally created in 2005 after the merging of the ABC (American Bowling Congress), USA Bowling, WIBC (Women's International Bowling Congress), and YABA (Young American Bowling Alliance). The organization represents Team USA as well as 1.5 million bowling members and about 3,000 local associations making it the largest bowling organization in the United States. Today the USBC maintains and updates the major rules of play for formal ten pin bowling as well as certification of leagues, tournaments, alleys, equipment, etc. They have a records division that maintains the averages for players during league and tournament play as well as achievements for 300 games and 800 series during sanctioned play and the USBC Hall Of Fame. It also maintains the SMART scholarship program that gives scholarship money to youth players.
Joining the USBC is simple. Just fill in your application form on bowl.com and pay the annual membership dues. With your membership you will be able to track your average, join sanctioned leagues and tournaments, search for other registered players, and win achievement awards.
Which organizations do you belong to? Have you won any major titles? Let us know in the comments below.