Do You Need A Bowling Wrist Brace Or Support
Bowling is a sport about using your hands, and more specifically your wrists. This extensive use of joints can cause issues with coordination and even health. Because of this it's wise for all bowlers to use a wrist support. It's important to know where you fit in, and we can help you figure out which type of bowling wrist brace is right for you. 
What Is Wrist Support For Bowling
It might seem easy to simply take the name for what it is, a wrist support is for the wrist. But there is a lot more to it than that.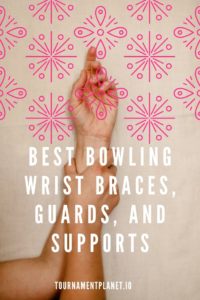 The main purpose of a bowling wrist brace is to assist you in the delivery of your throws. When bowling you have to rotate your wrist and so the bowling wrist support is needed to stop your wrist from bending at the wrong time or too far. 
This support helps those of us who are new to bowling and don't have good technique yet. It also helps you if you don't have enough strength in your wrists, therefore making it difficult to position them at the correct release point for maximum hook. A good bowling wrist support will help in preventing the back of the bowling hand from tilting or collapsing prior to the delivery of the ball. 
Why Do I Need A Bowling Wrist Brace Or Guard
Even if you are not new to bowling and you don't have a weak wrist, you should still use a bowling wrist guard. Bowling wrist pain is a typical yet avoidable occurrence in bowling. Since bowling is a sport about repetitive motion and rotation of the wrists, it is important to pay attention to the motion of your wrists especially when there is a lot of stress on them. So if you have wrist pain you don't need to stop bowling. Instead, using a bowling wrist support can help in fixing your positioning and bad habits that might have caused the pain to begin with. When you have wrist pain you can also supplement your wrist guard with a lighter ball for more control.
If you have carpal tunnel syndrome (CTS) then you definitely need a wrist support guard. However, make sure to talk to your doctor about your frequency in bowling. While bowling is most likely not the cause of carpal tunnel it is still important to talk to a professional to pick the correct brace type that fits your style. A bowling brace for carpal tunnel syndrome can significantly help in alleviating some of the aches and pains that come with CTS, as well as making sure you can still enjoy bowling. 
Best Overall
When picking a brace for bowling the most important things to keep in mind are: durability, ventilation, versatility, comfort and the materials. So what would be the best wrist support for bowling?
For that we have picked the Kool Kontrol Wrist Positioner. This bowling wrist support is great for both your form and does not waste any of its functionality. It is also made by the best seller in the bowling protective wears. This bowling brace comes with 3 adjustable velcro wrist straps for proper fitting and customizability. The straps are made from special fibers in order to make sure the brace is aesthetically pleasing and comfortable to use. It also makes the entire brace breathable, eliminating any irritating smells that come from long bowling sessions and built up sweat. 
The classic styling and removable metal support systems on both front and back, are great in helping to improve your game. The glove design of this wrist brace makes it a great option for any bowler who has never worn a brace before and doesn't know what to expect. Because it is so easy to get on and off, it's a great option for bowlers who struggle with finger control or suffering from arthritis. The positioner helps to keep your hand in a good position for proper release angles and minimizes injuries. Overall this is a great brace, bowling wrist brace for hook and any other style you desire.  
Pros
Comfortable for any session length

Adjustable velcro straps

Metal inserts assures support and comfort

Ventilated material that removes odors and sweat

Highly durable
Cons
If placed wrongly, metal inserts may bend

Sizing can be difficult to adjust to
Best Budget
Some people don't have the money to pay for a bowling wrist support. Not to worry, we have the thing just for you. The BraceUP® Wrist Compression Strap is the right brace to help your game. This bowling wrist brace is easy to use and comfortable to wear. The brace is available for both left and right wrists, allowing anyone to be able to use this brace.
The material on this brace is made out of unique microbial fibers that protect you from odors emitted by sweat. Because of it's neoprene-blend materials, the brace gets extra support and achieves a comfortable feel perfect for any custom fit if you combine this with the hook and loop closure. This bowling wrist support is also great for wrist pain relief through pressure on the injured wrist, ensuring you can bowl to your heart's content. So, even if it does not do much in terms of a positioner, it can help in making sure you do not further injure your wrist. This is a great first buy if you do not want to spend too much on your bowling wrist support. 
Pros
Left and right handed

Relieves pain through pressure

Adjustable strap
Cons
Ventilation might suffer

No positioner to improve game

Not as durable
Best Runner Up
GIven so many great braces to choose from, there should be a backup plan in case one isn't in stock. Nevertheless we have picked a bowling wrist brace that rivals our top pick in all aspects, made by another prominent company in the bowling world. The Brunswick Bionic Wrist Positioner is a great choice for anyone who has a bit more cash to spare. 
This positioner is great for both your wrist and your fingers. It's a great option if you're looking for a bowling wrist support that will up your game and protect your form. Not only is this positioner able to make your shots more accurate and keep your wrist in a perfect position, but it is also a great support for bowlers who experience pain. It helps in reducing the impact from carpal tunnel. This is a great and durable brace, with amazing stability and release, not to mention the materials that make it up. 
The body is constructed with aluminum to give great durability and supports your wrist with great strength to improve your bowling experience. Despite its apparent armor, this brace is very light weight making it adjustable and safe to wear. The positioner is meant to help position your wrist in the right spot for a pro release. It offers multiple cupping and lateral positions to improve your technique, especially if you want to change the side roll or rotation. So, whether you are a new or seasoned bowler, have wrist pain or carpal tunnel, or even if you just want your bowling average to go up, the Brunswick is a great wrist support for anyone. 
Pros
Lightweight, strong material

Improves shot accuracy and wrist placement

Alleviates pain

Durable material
Cons
Best For Carpal Tunnel
While not exclusively a bowling wrist support, the ComfyBrace is a great product for those of you who have carpal tunnel, tendinitis, arthritis or wrist pain.
If you are looking for a bowling brace for carpal tunnel, this brace is the one for you. It is able to provide maximum support for your joints and ligaments. Because of its cushioned beads, the ComfyBrace hand splint is soft and comfortable to wear. The material is breathable and does not hold any moisture, effectively permitting sweat to evaporate quickly. The hand protector was also made to last, making it extremely durable. Because of its comfort and materials, you are also able to sleep with the brace on giving you the most use out of this product. 
As a bowling wrist brace for carpal tunnel, this brace makes an effort to fit anyone. With its hook and loop fasteners you can rest easy that the brace will fit perfectly on either hand. With its ergonomic design you can alternate which hand you use, with no hassle of constantly making strap adjustments. While it does nothing as a positioner, it has great ventilation, versatility, and comfort for any bowler with carpal tunnel syndrome. 
Pros
Comfortable

Good ventilation

Wearable on any hand

Adjustable straps

Great for people with carpal tunnel syndrome, arthritis, and wrist pain
Cons
Not made for bowling

No positioner for increased control
Best Lightweight Wrist Positioner
From newcomer to veteran bowler; if you don't like excessive metal wear but still want a brace that will help keep your form consistent, then this is the bowling wrist support for you. Brunswick is a great company for bowling support wear and no list would be complete without the Brunswick Shot Repeater.
This bowling brace is the top choice for anyone looking for a positioner that is lightweight. The "Repeater" in the name gives you the feel of a glove made to improve the consistency of your game. While you might not always shoot perfect scores every time you use it, it will help in guiding your hand to the same position every time you release. This helps to override any bad habits you had and promotes consistency in your throws. 
This positioner has both front and back side metal inserts to tightly secure your wrist in its proper place. The Repeater also minimizes pain through its material which absorbs sweat, giving it great ventilation and versatility. 
Pros
Absorbs sweat

Alleviates pain 

Easy to remove

Improves wrist positioning and shot accuracy

Highly durable
Cons
No XXL option

Might suffer from over sweating
Frequently Asked Questions (FAQ)
Before we jump into the FAQ section we found a video that concisely discusses tape and wrist straighteners as a training tool. Check it out here:
What Does A Wrist Brace Do For Bowling
A bowling wrist brace is supposed to help your technique. This means better form and mobility to make consistent plays. By helping to improve your form it also prevents you from injuring your wrist, killing two birds with one stone.   
Why Does My Wrist Hurt From Bowling
There could be several reasons for this, but most likely it is due to improper technique. The most essential part of bowling is the moment before releasing the ball and the wrist plays an important role in this. Extensive and repetitive use of the wrist may be the cause. A bowling wrist support is great for mitigating the pain and a bowling wrist positioner will improve your technique. If these are not enough it is advised to have a coach assist with your form to prevent long-term injury.
What Is The Purpose Of A Bowling Glove
Bowling gloves are built to offer support to people with preexisting hand injuries. With rigidity in the right spots the glove protects the hand and keeps it from flexing and causing more damage. A bowling glove does wonders for everything from carpal tunnel to wrist injuries, especially if you couple it with proper form and a good bowling wrist guard.
How Much Does A Bowling Wrist Brace Cost?
Bowling wrist braces usually range from $20 – $40. The saying, "you get what you pay for" rings true here. But if you're on a budget then something is better than nothing.
Do I Need A Different Bowling Wrist Brace For Left Handers?
This depends on the bowling wrist support that you want to purchase. Most manufacturers will offer one brace for each hand separately. There are however, some braces that are interchangeable so you should double check beforehand.
What Are The Different Types Of Bowling Wrist Support
There are many types of bowling wrist supports for you depending on your needs. Some supports are intended to limit movement of the wrist and the fingers, while others are more versatile in their designs. Here's a brief rundown of what types of supports there are so you know which best suits your needs.
Bowling Wrist Brace Options
While some braces may offer some pain relief the overall purpose of a brace is to make sure your wrist doesn't hinge back before the release and causes the fingers to exit the ball at the same time or before the thumb.
Bowling Wrist Guard Options
Bowling wrist guards usually have some type of special support material such as aluminum to reduce pain and improve your form. These bowling wrist supports are specifically designed to help protect your wrist from injury and wrist pain.
Bowling Wrist Positioner Options
A bowling wrist positioner is meant to help improve your technique. Your wrist is supposed to be at a lower position when you release a bowling ball for an effective delivery. So, a wrist positioner will guide your wrist to the correct position consistently, leading to better accuracy and technique.
Bowling Thumb And Finger Brace Options
This brace is usually intended for people with arthritis, carpal tunnel, tendinitis, or finger/joint injuries. A thumb and finger brace will help in protecting your joints and alleviate some symptoms to help you play consistently.