Why We Wear Bowling Gloves And How To Choose The Best Bowling Gloves For You
Using a glove helps prevent further injury, decreases stress on the hand, wrist, and ligaments, while providing more comfort. It is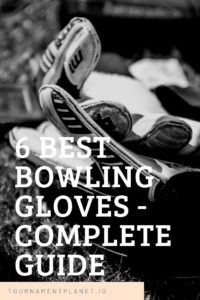 essential to find the best bowling gloves for you. Whether you're a beginner or you participate in leagues; wearing a glove will help advance your overall game.
The main purpose of the glove is to support the bowler. When choosing a glove, you will need to ask yourself how will the glove help support you the most? Support and stability are two terms that you will hear a lot from different bowlers when they are talking about bowling gloves. And finding the glove that is going to provide you with both is going to improve your game tremendously.
Factors To Consider
Gloves come in many lengths, weights, sizes, and different materials. Typically, these are leather or Nylon. Be sure that the glove is made with durable material and will last through the normal wear and tear of bowling. You will also want to make sure that your palm is properly straight and rigid and that the glove is weighted for your comfort.
Some are bowling gloves that are used to help with an injury or a weak wrist or hand. Some gloves are used simply for comfort, better grip, helping as a friction barrier, or simply keeping your hand dry. Other gloves can even have devices added to them for extra support. However, many times these gloves can be very cumbersome and take time to get used to.
You need to know what problem you're trying to solve or what advantage you want before shopping around.
Bowling Glove Styles
There are many styles of bowling gloves. While browsing, you will also encounter fingerless gloves. These types of gloves offer maximum ventilation and let you feel the ball more intimately. Yet another glove is the single finger glove. This is made to protect the index and pinky fingers with some additional grip and support. In addition, another bowling glove is  the two finger glove. This glove is used most often because it is the glove that people feel gives them the most grip and ultimate control over the ball. Lastly, is the finger sock glove. This particular glove covers your thumb and palm, giving you some added grip and stability.
There are many factors that come into play when browsing and buying the best bowling gloves. First, does your wrist break when you release the ball? Second, do you prefer to feel the ball more or less for control. Last, do you have a tendency to break more right or left. To answer these questions you'll likely need to have been bowling for awhile. Moreover, it is best if you can actually try on different gloves in order to find one that works best for you. Unless you're O.J. Simpson, you do want the glove to fit properly. With all of the varieties of gloves on the market today, you are bound to find the best bowling gloves for your needs.
Best Bowling Gloves Overall
Ebonite Pro Form Positioner Glove
While looking for the best bowling gloves on the market we came to the conclusion that it is this two finger glove. Sturdy and built for durability, this glove will survive a lot of wear and tear. It's manufactured by Ebonite so you can trust that it has quality that won't quit. It is made from high quality leather and spandex, enabling the glove to breathe and keep your hand cool.
The gripping compound on this glove works amazingly well while providing durability for the long haul. With this grip, it promises to give you complete control over the ball and higher ball revolution rates, making it easier to hook. There's a padded steel backhand support feature that helps with wrist positioning and wrist support. It also has slits in the fingers to allow air in and not get too warm as you are bowling.
The Ebonite Pro Form Positioner Glove is bound to help you with increased consistency with your game. Overall, this glove has everything you are looking for: support, comfort, durability, and style to match. This in turn, is why we chose the Ebonite Pro Form Positioner Glove as number one when looking at the best bowling gloves on the market. 
Best Budget
Professional Anti-Skid Bowling Gloves
The Professional Anti-Skid bowling gloves are adjustable for convenience. They have the perfect palm-type fitting design for more comfortable movement. These affordable gloves are made from breathable elastic Lycra fabric for additional comfort. This glove comes in a variety of colors to match your style. While most other brands are sold as either left or right hand only this option is sold in pairs. This glove is perfect for the money conscious consumer who's looking for a great bargain. These gloves are great for people who are ambidextrous or for my daughter – who rolls the ball with both hands between her legs. It's a great starter glove for sure.
Best Runner Up
Columbia 300 Pro Right Wrist Glove
This Columbia 300 Pro Right Wrist Glove has made the top cut with the way it helps with control and wrist support. It has an adjustable reinforced wrist closure along with two-way spandex finger gussets and rubber fingers for better grip. Also, this glove allows for more protection from calluses, bruising, and swelling. It's incredibly attractive and made from genuine leather. Lastly, its affordable price makes it one of the best bowling gloves money can buy. It's obvious why this is our runner up.
Best Under $20
Brunswick Deluxe Bowling Glove
If you are looking for help with your delivery and control, the Brunswick Deluxe Bowling Glove is a strike. The deluxe non-slip grip on the palm makes gripping the ball so easy. It has a velcro strap closure that provides a secure fit and allows for easy removal. The stretchy material also provides flexibility and additional comfort. This means that as you play multiple games and your hands swell your glove will still fit. Along with protecting your hand and fingers, this glove is easy to put on and remove. For under twenty dollars, this is a great choice. 
Best Bowling Gloves For Arthritis
Comfy Brace Arthritis Hand Compression Gloves
Here are some spectacular gloves for bowling that can be worn anytime as well. The Comfy Brace Arthritis Hand Compression Gloves are fingerless gloves that are designed to relieve pain from arthritis, ease muscle tension, and alleviate carpal tunnel aches. Comfy Brace Arthritis Hand Compression Gloves are made with fabric that is breathable and moisture wicking. They are made for both men and women. This glove is made to ensure maximum relief for arthritis and stress, providing the perfect combination of comfort and compression. No matter the hand shape or size, this glove comes in three different measurements to allow the utmost comfort and support for your hands. If you are dealing with hand pain, this is the best bowling glove for you. And best of all, you can continue wearing it after your done playing.
Best Tacky Bowling Gloves
Storm Xtra-Grip Plus Glove
If you're looking for an advantage on the lanes, these are the best bowling gloves for you. The Michelin Storm Xtra-Grip Plus Glove has a reinforced backhand for additional support. Combine that with with increased control with consistent wrist positioning and you've got a winner. Despite the simplistic design, it is incredibly comfortable and provides the support needed to help improve your game. The unique gripping ability is unmatched by other gloves. It also has supreme ventilation to keep hands dry and an elastic wrist wrap for additional tendon support. 
Frequently Asked Questions (FAQ) When Looking For the Best Bowling Gloves
Are There Different Gloves For Right Handed And Left Handed Bowlers?
When selecting the best bowling gloves for you, keep in mind that not all gloves are designed to be ambidextrous. You will want one that is made for the hand that you use when bowling. Also, not all options come as a set of two gloves, so you need ensure the glove is for the correct hand.
Is A Bowling Glove The Same As A Wrist Support?
Some bowling gloves may have metal splints that will help with wrist support; however, they are not the same. A wrist support will prevent the back of the bowling hand from tilting or collapsing prior to the delivery of a bowling ball. If you need a support check out our article on Best Bowling Wrist Braces, Guards, and Supports.
Final Thoughts
You can't go wrong with the gloves we discussed. Because they are manufactured by top brands they will last longer than the other options out there. Not only that, but we've carefully curated this list to better suit your specific needs. We mentioned before, but it is important to know what purpose the gloves are supposed to serve and your play style prior to shopping around. This way you know you are buying the best bowling gloves for you.
Have you tried any of these options that we listed? If so, how did they work out for you? Is there another option that you prefer more? Let us and others know in the comments below.