What Are The Best Bowling Knee Braces And Other Options
Bowling is a sport loved by many; it's entertaining, almost anyone can play, and there is little to no equipment required for casual play. However, knee pain and instability can take a great toll on your enjoyment and overall performance in this game. Bowling, like many other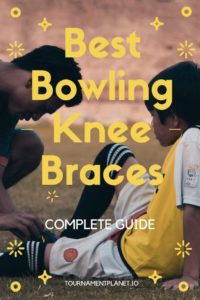 activities, requires a great deal of physical exertion, which can be especially harmful to older players. This is why many bowlers turn to knee sleeves/braces as a solution to this common problem. Getting one of the best bowling knee braces are an excellent way to improve support, as well as reduce pain and prevent injury. 
The search for a knee brace can be overwhelming, as there are so many types and brands to choose from. This article will go into the many types of knee braces, some of the best bowling knee braces on the market, and some commonly asked questions about them.
ACL Knee Brace
The ACL (anterior cruciate ligament) is a tissue that connects your thigh bone to the shinbone. It is very important in stabilizing your knee joint. Sudden shifts and movements, especially during sports like bowling, can overstretch the ACL. This can cause damage to the ligament, including spraining, and in rare cases, tearing. Sometimes, it can take over six months to return to normal after this kind of intense injury. Symptoms include swelling, intense pain, and inability to move or put weight on the injured area. Knee braces for this kind of injury can be used to relieve pain and provide extra support, especially after surgery.
The best ACL knee braces provide compression and help to increase the blood flow as well. If you are recovering from a recent ACL injury, this knee brace may be the best kind for you. See the next section for our suggestion.
MCL Knee Brace
The MCL (medial collateral ligament), which you may find similar to the previous ligament, runs along the side of the knee, connecting thigh bones and bones in the lower leg. It also prevents the knee from bending inward. Injury to the MCL is less likely than injury to the ACL, and less likely to put you in the hospital for surgery, but is also painful and dangerous. Like an ACL injury, MCL injuries are also caused by physical exertion to the knee (stretching) and can cause sprains or tears. MCL injuries take a matter of weeks to heal completely, at most.
You may experience similar symptoms to an ACL injury; swelling, locking in the knee joint, and inability to put weight on the injured knee. A knee brace may help with this injury as well and can be used if you already have recovered but you just want to provide extra protection to prevent further injury in the future. Many braces are for both MCL and ACL, and also PCL (posterior cruciate ligament) and LCL (lateral collateral ligament) injuries. 
Knee Immobilizer
A knee immobilizer has similar functions to that of a splint, blocking and covering the knee and preventing joint movement. It extends from the mid-thigh to the bottom of the shin. ACL and MCL braces usually leave part of the thigh and knee exposed, allowing for free movement. However, most knee immobilizers cover almost everything. They lock the knee in extension preventing the joint from moving in any way. Many are applied with Velcro straps for extra security and to help hold the immobilizer in place so that it doesn't slide down.
Just as with the previous braces, this type of knee brace and is best used after an injury or surgery to help your knee muscles, and tendons heal, and provide lots of protection against future injury. However, it may alter your performance, unlike the ACL and MCL braces, so it's best to use this kind of brace to help yourself heal at home so you can get back to the bowling alley as soon as possible.
Hinged Knee Brace
Every knee brace is similar in that they all provide support and extra protection to those experiencing a lot of pain or recovering from a recent injury. The hinged knee brace not only does all of this, but it also takes a lot of weight off of the knee and makes it easier for athletes to get back to the action without further damaging their muscles and tendons. Hinge braces provide the most structural support and rigid protection of your knee while allowing for smooth, free movement. While wearing this brace, you'll be able to move your knee just like normal, and you'll hardly notice any difference. This brace is most ideal for frequent, active bowlers who want to get out there without having to worry or watch their movements. As a result, our best overall recommended knee brace is a hinged knee brace – see below.
Neoprene Knee Brace
Neoprene knee braces are the most popular knee braces on the market. While having a similar, almost identical function to the previous braces, they are unique in their style and design. These knee braces are generally more comfortable for the wearer and go unnoticed most often, which is why many turn to this knee brace before any other, especially people who are active and moving around often. This brace is made of a flexible, synthetic rubber-like material, and many are padded around the knee. Some even have straps, just like the previous knee brace, to help hold the neoprene knee brace in place and prevent it from moving. It offers compression and support to help increase circulation and heal damaged ligaments. A good deal of neoprene knee braces are also waterproof. Many sports, including bowling, can be very sweat-inducing, so this brace is perfect for our active bowlers.
Knee Straps Or Knee Support Bands
Knee straps are unique to any other knee brace on this list. Instead of covering the thigh and the bottom of the knee, the knee strap is a very lightweight and adjustable thin band that covers the top or bottom of your knee. Knee straps placed at the bottom of the knee work to relieve the patellar tendon, whereas knee straps that rest near the top help to reduce stress and pressure on the knee. Most are just a band, but others cover both the top and bottom of the knee with a Velcro strap, leaving the kneecap exposed. Some can be tightened and adjusted with side straps.
This is by far the best knee strap for activity and movement, as they take up little space and usually stay in place, more often than other types of knee straps. Most runners will turn to this kind of knee strap for these reasons. It's easy to say this is the best knee support for very active movers.
Knee Stabilizer
Knee stabilizers are very similar to ACL/MCL and hinged knee braces; they help to support sore, injured knee muscles, and tendons. Stabilizers are very adjustable, flexible, and come in all different styles. They are designed with side stabilizers that help to reduce lateral motion for more comfort. Many are designed with steel springs and make it easier for you to bend and stretch. This knee brace is ideal for bowling because it provides a boost for lifting heavy objects, and allows you to move around freely and easily without any discomfort.
Knee Compression Sleeve
Knee compression sleeves are very similar to neoprene knee braces in terms of design and function. Many knee compression sleeves use compression fabrics that help to increase blood flow recovery and help to protect your knee muscles from further injury. They work to heal inflammation and bruising. It does have a more custom fit than other types of knee braces. Like the neoprene knee brace, the knee compression brace can also be worn underneath some tougher braces, like the hinged knee brace or ACL/ACL braces. Some come with straps to help keep the brace tight on your leg.
These knee sleeves are best for those with arthritis or mild to severe tendon strains. They are easy to put on and less likely to slip off when you are engaged in a physical activity like bowling that requires you to bend and stretch your legs and knees often while acting as a shield. They comfortably fit underneath clothing as well. So if you have an injury and need to recover outside the alley, these are the best bowling knee braces to choose.
Patella Knee Brace
Patella knee braces are nearly identical to the hinged knee brace. Some hinged knee braces actually come with a patella stabilizer. Patella knee braces are easy to put on and take off and fit underneath clothing just like the Neoprene brace and compression sleeve. This kind of brace helps prevent patella injuries, and also dulls knee pain by putting pressure on the Patellar Tendon. Some are open, and some are closed. Open patella braces avoid putting too much pressure on the knee and allow for better movement, while closed patella braces help to compress the knee cap and provide extra support. Patella knee braces can also help stop cartilage degeneration. These are the best knee braces for when you're able to rest at home or in the office at a desk with little movement.
Best Bowling Knee Braces On The Market
Best Overall – Hinged Knee Brace
The overall best bowling knee brace is the Shock Doctor Maximum Support Compression Knee Brace. This popular knee brace comes in all different styles and sizes and is one of the best ACL knee braces on the market. A key feature is the odor prevention. This brace is breathable and reduces odor, bacteria, and excess moisture from sweat. It's made of a strong, comfortable fabric, it's sturdy and secure while allowing for free movement and lots of comfort.
This latex-free brace will not slide down; it is very personalized so that you can adjust it to your liking, to make sure that it stays in place. Not only that, but the Shock Doctor Knee Brace compresses well and boosts therapeutic heat to help relieve sore joints and increase blood flow. But, it is not restrictive at all and you'll barely be able to tell it's there. It is not tight and does not squeeze and isn't too loose. This brace can run small, however. If you don't want too tight of a fit, consider sizing up when you purchase it.
Best Budget Knee Brace For Bowling
If you're searching for a knee brace, want one right away, but can't afford one of the higher end knee braces, this brace is for you. The BLITZU Flex Professional Compression Knee Brace is high quality for its price and works best for Arthritis relief and ACL/MCL injuries. This brace is excellent at relieving joint pain. It is equipped with a gel pad that helps with stabilization and compression, especially to the ACL and MCL, whilst having a comfortable fit. It helps reduce inflammation and swelling and works well to relieve post-surgery pain.
This knee brace is excellent for bowlers as it is very flexible and allows for bending and stretching. The elastic material prevents moisture and sweat build-up and does not itch. This brace helps to prevent injury and speed up recovery, as well as expand your range of motion. With this brace, you won't have to worry about pain or cramps when you move around.  
Best Knee Brace Runner-Up For Bowling
The TechWare Pro Knee Brace is best for tears, swelling, and joint pain. It also works to relieve arthritis and tendinitis discomfort and pain. It holds the muscles and ligaments tightly in place and prevents too much stress and pressure on the knee. This sturdy neoprene brace has an open patella design which makes it breathable and provides for better knee cap protection and support. It provides compression on both sides of the knee while allowing full mobility. The material is tough with good stitching and has anti-skid material on the insides. It comes in four sizes and is adjustable so it stays in place, and is very comfortable, especially for larger legs. This brace makes it easy to move around and put pressure on your leg, especially when running, walking, bending over, or bowling.
Best Bowling Knee Braces Under $15
The Patella Strap Knee Brace is affordable and provides the best support for ACL injuries and meniscus tears. It helps to minimize pain by providing support and relieving tension. It is, out of all of these braces, the best knee brace for free activity and movement. The strap is fully adjustable, adapts to the curve of your knee, and the best part about it is that it includes side Velcro straps, which allow you to adjust the level of tightness and compression on your knee.
This neoprene strap is padded, lightweight, and incredibly absorbent, blocking moisture and preventing an uncomfortable slippery feeling when you move around. It is snug, soft, highly supportive, and goes unnoticed. If you're planning a long day of bowling, like a tournament, then these are the best bowling knee braces for the situation.
Best Knee Brace For Knee Pain
The Bauerfeind Sports Knee Support Brace is stylish and supportive; it comes in three colors: black, pink, and blue. It best helps to support the movement of the knee during physical activities. The area surrounding the knee cap is padded and applies immense pressure to the area. These are the best bowling knee braces for when you're able to rest at home or are going to be doing minimal movement and want to wear it for hours.
When moving, the gel pad massages the connective tissue and muscles, relieving pain, and improving joint stability. It also reduces stress and reduces the risk of injury. The fabric is non-restrictive, lightweight, and prevents moisture to keep the brace nice and comfortable. It is most flexible and allows you to apply pressure to your leg without hurting yourself. This brace is breathable, long-lasting, and improves circulation, making it easier to maintain your performance. It comes in six different sizes. 
Best Bowling Knee Braces For Arthritis
The EXOUS Knee Brace is very popular among those with arthritis and tendinitis. It is inexpensive and functions great for those who are active. Also, the double flexible coils provide extra stabilization and comfort to both the inside and outside leg and knee. This knee brace differs from the others as you can stick the four-way Velcro straps in any location on the front. This will help you get the perfect fit everywhere around the kneecap.
Unlike most other knee straps, where the straps only fit certain positions that may or may not work for your leg. This personalizes the knee strap, allows it to stay in place, and provides all-day support and less irritation. The greatest feature of this knee brace is the gap between the straps behind the knee. It makes the strap breathable and provides for more comfort and ventilation for less moisture when walking and bending your knees, unlike other braces with excess material. It is also very supple, allowing for more mobility and freedom, especially when you are bending over to throw the bowling ball.  
Frequently Asked Questions (FAQ)
What Can I Do To Prevent Knee Pain Or Injury During Bowling
There are several things you can do to prevent knee pain or injury aside from using one of the best knee braces we've mentioned. This includes things like stretching and regular low-impact physical activity like walking, biking, or swimming. If you feel like you're getting some knee pain and don't have a knee support device then when you return home you can heat or ice the knee.
Another possible cause of the knee pain could be too heavy of a ball. Check our our article How To Choose The Correct Bowling Ball Weight where we discuss why a lighter ball may actually improve your score. There are other steps that you can take that will not only decrease knee pain, but also improve your score. Specifically, working on your form and getting shoes that have a proper amount of slide and not too much grip. You can check out this video below for more details.
Do Knee Braces Really Work?
There are many types of knee braces with different functions, and most can help to offer stability and relieve pain, especially for people with conditions like arthritis and tendinitis, and injuries like ACL/ MCL injuries, knee sprains, tears, runner's knee, and more. Knee braces not only reduce pain from injuries, but they also reduce lateral and rotation movements, helping to prevent you from worsening your injuries, or gaining new ones in the future. Knee braces aren't actually responsible for healing anything, but they do help a lot. Evidence suggests that knee braces can help to reduce symptoms and improve function in people with various conditions. 
It's important to find the right kind of brace for you to ensure it is efficient and works well to prevent the problems you're experiencing. Especially for activities like bowling, basketball, tennis, and more (as mentioned before) as you bend over and use your legs often. Knee braces bring warmth and make for more flexibility and increased blood flow. Knee braces, most importantly, give you the confidence to move around freely without fear of injury or pain, allowing you to perform your best with no hesitation.
Is It Okay To Wear A Knee Brace All Day?
A knee brace can be worn all day, granted that it's not causing you any pain or discomfort. You have to make sure you find the knee brace that is right for you (which we'll talk about later). It also depends on the level of pain and discomfort you are experiencing. Sometimes you'll only need to wear your knee brace when you are up and active, but other times in more severe cases you may feel the need to keep the brace on.
During sleep, you should give your leg a break by taking the knee brace off. That is, unless your doctor recommends keeping it on. If you're wearing a brace for after surgery, you may want to leave it on while sleeping. This will ensure the joints stay in place. If you only have a sore knee, you should leave it off during the night. This is because wearing the brace all day can cause other problems with the areas around your knee.
How Do I Choose A Knee Support?
 Knee braces come in all different forms and sizes. Some are snug, easy to apply sleeves, while others are tough and hinged braces. There are four levels of protection you should consider in order to help you determine which knee braces are best for your needs. The first level usually consists of sleeves, and these are best for minor pain and strains. These can also fit under clothing and are very comfortable and flexible, allowing for more mobility. The second level includes wraparounds, bands, and straps, and these are usually helpful for moderate ligament sprains and tears, swelling, and pain relief. The third and fourth, consisting of hard braces, are best for if you are recovering from surgery, or if you are trying to prevent further injury, although level four braces are typically worn longer and are more restrictive.
Which sounds best for you? Using this guide, choose a knee brace that will best support you and allow you the most freedom. Be sure to choose a brace that is secure and doesn't slip down easily, so that you remain comfortable all day, without having to constantly adjust your brace. Pressure around certain joints like your knees can be a good thing and help you improve your performance by reinforcing your muscles. However, it is important to choose a brace that fits well to avoid limiting your circulation, which can cause injury when you release the pressure.
Don't forget, it's important to consider a knee brace before you develop pain, not just as a recovery measure, but as a preventative measure.
Final Thoughts
Knee braces vary in size, shape, and function. Whichever you pick depends on your own needs. Some are best for minor injuries, whereas others work well for more serious issues. A knee brace that's perfect for someone else may not work well for you. Material, type, cost, and size are major factors in choosing the best bowling knee braces. If you are still unsure about which knee brace is right for you, and you think you need a little more guidance before making a purchase, talk with your doctor, or physical therapist, to get an analysis and a professional opinion.
What do you think? Do you use knee protection? Did you wait until an injury or do you use it as a preventative measure? Let us know in the comments below.