What Are The Best Bowling Balls For Beginners 
As a new bowler, there are so many questions that you need answered, like "What are the best bowling balls for beginners?" or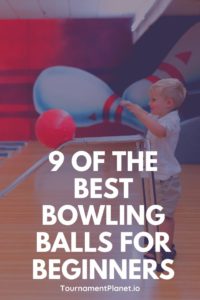 "What size, weight, and material ball is best for a beginner bowler?" 
When you're new to the sport, it can take a lot of time and research to figure out what bowling ball is best for you. There are so many different brands and options that wading through them can be a chore. Fortunately, however, you're in luck.
Because we know how hard it is to find information on the best bowling balls for beginners, we've done the hard work for you. Below is our ultimate guide to beginner bowling balls, with all the information you could possibly need, all conveniently in one place.
Whether you're looking to splurge on your newest purchase or to get the best bang for your buck, our list contains the very best selection of bowling balls for beginners. 
Best Overall Bowling Ball
Brunswick DV8 Bowling Quantum Bias Ball
The Quantum Bias Ball by Brunswick is by far one of the best bowling balls for beginners. This sleek, white, asymmetric bowling ball packs a strong hook and is great for pin carry on oily or greasy lanes. As part of Brunswick's Pro series, the Quantum Bias ball is designed with 3.5x more coverstock for increased durability, performance, and power. This bowling ball is undrilled – but we also include information about drilling bowling balls at the bottom of this guide. Brunswick is currently selling fourteen, fifteen, and sixteen-pound Quantum Bias balls on Amazon.com with prices ranging from $169.95 to $231.22 USD depending on the size preferred. 
Best Budget Bowling Ball
Brunswick Tzone Deep Space Bowling Ball
When looking for the best budget bowling ball for beginners, we're looking for a ball under $50.That's where the Brunswick Tzone Deep Space Bowling Ball comes in. This gorgeous, polyester bowling ball comes in a variety of bright colors and designs, and, like the Quantum Bias ball, is also produced by Brunswick, one of the best bowling ball brands on the market.
Unlike the Quantum Bias balls, the T-Zone Deep Space bowling ball also comes at a very reasonable price. Most of the fourteen-pound styles are currently available on Amazon for roughly $50 USD plus the cost of shipping. In fact, the T-Zone Deep Space bowling ball is actually the #1 top-selling bowling ball on all of the Amazon website. Of course, with its high performance, gorgeous look, and reasonable price, it's not hard to understand why. 
Best Bowling Ball Under $100
Pyramid Path Bowling Ball
If you're wanting to spend more than $50 on a bowling ball but still aren't ready to splurge, then the Pyramid Path Bowling Ball is the perfect option for you. The Pyramid Path polyester bowling balls come in sixteen polished color blends and are one of the best bowling balls for beginners and recreational players. These balls contain a pancake core, which means they have little flare potential. However, it all depends on how you play and what techniques you're interested in.
Depending on your preferred size, you can buy a Pyramid Path bowling ball on Amazon for anywhere between $49.99 and $74.99 USD – which makes them a steal of a deal. 
Best Bowling Ball for Hook
Brunswick Rhino Bowling Ball
Brunswick touts its Rhino Bowling Ball as one of the best bowling balls for beginners wanting great value. But if you're also looking to try out a hook shot, this is the best entry-level bowling ball for you. Because the Rhino is coated with a slick, reactive coverstock, it allows the bowling ball to get more friction on the lanes. It also gives the player a lower hook potential that is easy to control as they get used to the technique.  
When looking for a ball for throwing hook shots, you have to ensure that the holes are drilled correctly – but this high-quality ball sets you up for initial success. When bringing it to get drilled, just let the person know you are wanting to hook with the ball, and they'll take care of it for you.
Best Reactive Bowling Ball
Reactive bowling balls build upon the success of traditional urethane bowling balls but add a resin that allows more grip on the lanes. If you're looking for more power or hook, a reactive bowling ball is the best option, especially for beginners looking to quickly increase their average. This is why reactive bowling balls are some of the best bowling balls for beginners. 
Pyramid Path Rising Bowling Ball
Pyramid's Path Rising Bowling Ball is one of the best reactive balls on the market. This ball has a reactive pearl coverstock which means it uses less of its hooking power at the front of the lane, creating a sharper back-end motion. Rated at 77 on the durability scale, this powerful ball also features a 2-4" flare potential and symmetric core, making it one the best bowling balls for beginners on the market. Right now, you can buy a Path Rising bowling ball on Amazon for only $89.99 USD.   
Roto Grip Halo Vision
As mentioned, reactive balls are great for improving power and hook or to increase a player's average. The Roto Grip Halo Vision bowling ball is no exception. This ball boasts a trademarked, asymmetrical Centrum Core. This radial disk helps extend rotation and continuation for players of all levels. This ball is also great for all lane conditions. However, it hooks slightly less when a lane has been freshly oiled. The Roto Grip Halo Vision bowling ball is more expensive than the Pyramid Path Rising. But if you have a little more coin it is among the best reactive bowling balls for beginners.
What Is The Coolest Bowling Ball Ever
KR Clear Red Rose Bowling Ball
The KR Clear Red Rose bowling ball is completely clear, featuring a large, red rose in its center. If it looks familiar, you may remember it from the movie Kingpin. With this cool ball, Bill Murray was able to bowl three strikes in the tenth frame and win it all. Although the KR Clear Red Rose's design makes it seem more like a decorative piece than a practical ball, these polyester beauties are designed to be used on the lane. If you're looking for a cool bowling ball that is sure to catch attention, then the KR Clear Red Rose is the one for you. Because of its unique design, this ball is only offered at a 14-pound size.
Frequently Asked Questions for New Bowlers (FAQ)
What Bowling Balls Do The Celebrities Use?
What Bowling Ball Does Jason Belmonte Use?
Storm PRO-Motion
Prolific Australian bowler Jason Belmonte uses the Storm PRO-Motion bowling ball. He designed the ball alongside Storm's research and development department. Together, they created a specialized weight block design, incorporating a light-weight, symmetrical core with unique design features to help players of every skill level. These balls rank between 73 and 75 on the durability scale and offer a solid coverstock as well as a high flare potential (5-6"). If you're looking to get your hands on one of these bad boys don't delay!  
What Bowling Ball Does Jakob Butturff Use?
900 Global Boost Hybrid Bowling Ball
Renowned left-handed bowler Jakob Butturff uses this 15-pound 900 Global Boost Hybrid Bowling Ball, but the 900 Global Boost is available in other weights as well.
Perfect on drier lane conditions, this high-quality ball is the perfect option for a player looking to start playing with reactive bowling balls. This ball provides a direct journey through the heads, before smoothly veering into a different direction towards the end of the lane. Beginners shouldn't be worried though. As one reviewer noted, "It is not a snap but more of an easy roll – very comfortable and forgiving."  If you're interested in adding the Global Boost Hybrid to your bowling ball arsenal, you can buy it on Amazon now.
What Bowling Ball Does Kris Prather Use?
Roto Grip Idol
Award-winning, ten-pin bowler Kris Prather is often seen using a Roto Grip Idol, an upper mid-performance bowling ball. Available in five different sizes, these are one of the few bowling balls on our list that come pre-drilled. Like Jason Belmonte's bowling ball, the Roto Grip Idol features a unique, specialized core that provides amazing back-end capabilities. This ball also incorporates a reactive coverstock that uses Nano-technology, giving the ball more traction and intensity than previous coverstocks used in this line. It was also specifically designed for medium to oily lane conditions. Amazon currently offers this high-quality ball in five different sizes for the low price of $132 USD. 
Frequently Asked Questions – FAQ
This video has a quick rundown of some of the key terms for beginners to know about when searching for a new or their first ball:
How To Clean My New Bowling Ball
While owning a bowling ball isn't exactly rocket science, there are a few things to keep in mind – mainly in terms of keeping the surface of your bowling ball clean. 
When a ball rolls down a lane, it can pick up lane conditioner and other tiny debris that can affect its consistency and performance. That's why keeping the surface of your ball clean is important for serious gameplay.
Professional bowling shops often carry liquid bowling ball cleaners that can be used to quickly wipe down a ball. Some of these cleaners are even approved by the United States Bowling Congress (USBC). Look for these because you can use them during league competitions. 
To clean the ball, all you need to do is rub the liquid cleaner onto the ball with a rag using a bit of pressure until you can see the scuff marks or dirt disappear. Most people recommend using a microfiber rag to wipe your ball because this material absorbs more liquid than other types of cloth. They're also very easy to wash and keep clean.
After you've played 30 games, you should probably bring your ball in for professional cleaning and routine maintenance. Most pro shops offer this service, so it's generally a matter of just bringing your ball in and paying. Then, the shop will use a high-speed ball spinner and compatible grit pads to restore your bowling ball's reactivity and remove any remaining lane conditioner or dirt from its pores. 
Finally, once you've played 60-80 games, you may want to look into professionally resurfacing your bowling ball, which will rejuvenate your coverstock's finish and remove any scratches, knicks, or imperfections that you've accumulated during play. 
By carefully maintaining and cleaning your new bowling ball, you can make it last anywhere between five to ten years. 
What are the Best Bowling Ball Brands
The top bowling ball brands are Storm, Brunswick, and Hammer. These are well-established brands that have been around forever and often sponsor the top pros. They are also known for producing some of the best bowling balls for beginners. 
Many people like Storm for its bowling balls' out-of-the-box performance. They provide the perfect motion to get good scores without a player really having to do much. Interestingly, Storm started out by producing bowling ball cleaners. Later, they released their first bowling ball line, called Storm, to the market – and when sales skyrocketed, they officially changed their name to match their product line. Ethically, Storm is also top-notch. They're avid supporters of breast cancer awareness and often donate to large sums of money to institutions and charities devoted to cancer research. 
Most consider Brunswick to be the most "established" brand of the industry, having been around since 1845. In fact, Brunswick staff were directly involved in creating the American Bowling Congress. As a result, the company has developed alongside the sport. In 2015, Brunswick sold its product division to BlueArc Capital Management. Many  players later described a slight decline in product quality after the sale. Things bounced back quickly, however, and Brunswick remains one of the top choices for bowling products in the industry. 
Hammer is another top bowling band brand, owned by Brunswick Corporation since 2019. They were one of the first companies to put their logo on the side of their balls and gained attention when they launched the second urethane bowling ball on the market. Hammer is well known for its innovative products, and we're looking forward to seeing what else they come up with in the future. You can read all about Hammer here: Hammer Bowling Balls – A Complete Review Of The Hammer Product Lineup.
How To Choose the Correct Bowling Ball Weight and Size For Me
You may be wondering, "How do I know if my bowling ball is too heavy or too light?" or "How do you pick the right size bowling ball?" We have a full article about this that you can read here.
What Should I Know About Drilling Holes?
Most beginners who buy a new bowling ball are surprised to see that the ball often arrives undrilled. This is because the way a ball fits your fingers and hands will affect the way you bowl. Basically, holes that are specifically cut to your hand will fit the ball better and give you more control over play. However, this is not a job that should be taken lightly. 
There are a lot of factors that come into determining how you should drill a ball. Everything from your own personal finger size and hand-grasp to the basic material and coverstock that the ball is made from. If you're in doubt, instead of ruining a brand-new ball, you should visit a pro shop and have them drill the ball for you. This way you know the job is being done properly and you don't have to worry about mistakes. Not to mention, most mainstream hand-drills do not have the power to properly drill a bowling ball. If, however, you are determined to drill your new bowling ball by yourself, here are a few things you'll have to keep in mind. 
Tips For Drilling Yourself
You cannot simply go drilling holes into any spot on your bowling ball. Each bowling ball is different because there are so many different factors that affect its movement. So, one of the first things to do is to locate your bowling ball's pin. You can do this by looking for a small, colored dot on the surface of the ball. The location of this dot in relation to where you drill the holes will make the ball behave differently.
Once you've located the ball's pin, you should also locate its track. A track is the oil marking(s) left on the ball when it rolls down the lane. These tracks basically show which parts of the ball touch the lane during a shot.   
Next, you'll also need to locate the Positive Axis Point (PAP) of your ball, which is essentially the point that is equidistant from every point on the ball's track. In other words, if one spot is equally spaced from every track on the ball, where would that one spot be? This is the PAP. 
You will also need to take into consideration the changes in finger sizes during repeated play due to swelling. As a result many players tape their fingers and remove tape as they play.
Play It Safe – Don't Ruin Your Ball
All of these measurements will be important when deciding how and where to drill your new ball. If you are unsure about any of these concepts visit your local pro shop to have the drilling professionally done. At the very least, to have them help you with your calculations.
Most pro shops offer professional bowling ball drilling services for anywhere from $30 to $50 USD. 
What do you think about the balls mentioned above? Have you tried any of them, if so what is your experience? Do you have any other recommendations? Let us know down in the comments.