As bowling alleys look to reopen across the country we're seeing a lot of changes to help decrease the spread of the disease. Social Distancing is still in effect with most alleys opting to close every other lane. Tables in restaurants and bars have been spaced to be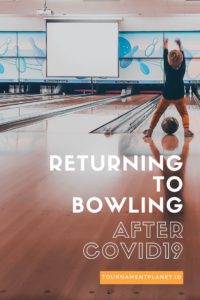 6 feet apart. Most establishments are trying to maintain 50% occupancy  as well.
But social distancing isn't the only change. Players are sporting a new look with many wearing masks and gloves. Cleaning wipes and sanitation stations look to be abound. Hand washing is more rigorous than ever before. Staff members are also wearing personal protective equipment – something that has become a common occurrence throughout restaurants and grocery stores for several months now. Some establishments have hired extra cleaning staff just for sanitizing commonly used surfaces such as alley provided bowling balls and arcade games.
While these changes are certainly necessary to keep businesses open and keep customers safe only time will tell how long these measures stay in place. Is this the new normal or simply a temporary change while we adapt to this new post-pandemic environment?
Have you gone back to bowling? Did you notice any odd procedures or practices? Let us know in the comments below.